Special-Day Gift Box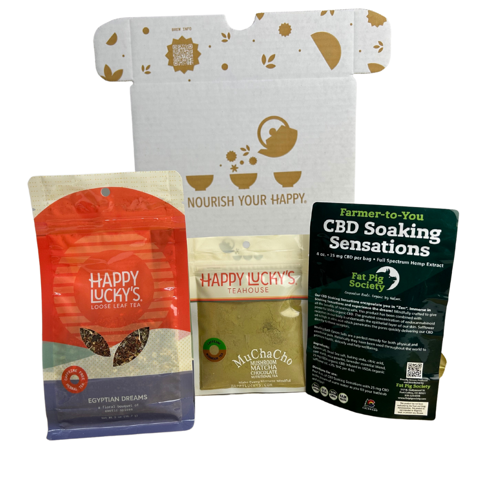 Special-DAY Loose Leaf Tea Gift Box
Our Special-DAY loose leaf tea gift boxes are perfect for anyone wishing to celebrate that special day or milestone. A fun and festive unboxing experience that will be sure to Nourish Their Happy. 
Choose a gift box from our different theme days to celebrate together with a mindful tea ritual experience.
Colorful packaging and gold leaf tissue complete the gift look.
Love Your Mother Gift Box
Plant Medicine from Mother Earth
Egyptian Dreams - relaxing herbal tea blend (2oz)
CBD Soaking Sensations - bath salts (4oz)
MuChaCho - adaptogenic mushroom tea (1oz)

  
Enjoy Free Shipping on Orders Over $60!
To qualify for free shipping, your order total must exceed $60 before taxes or shipping fees are added. This offer applies exclusively to US orders within the 48 contiguous states.
Quick Shipping Turnaround!
We strive to ship most orders within 24-48 hours. Please note that orders placed after noon on Friday MST, as well as those placed on Saturday and Sunday, will be shipped on the following business day.